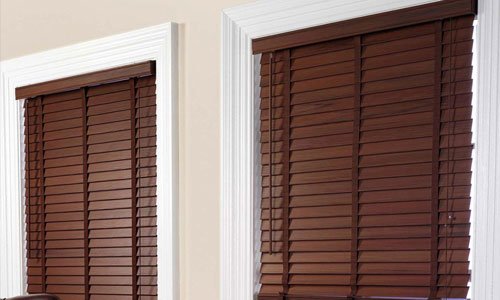 Wooden blinds are generally known as Wooden Venetian blinds. Wooden blinds Bangalore is a number of horizontal wooden slats are joined together by corded pulleys which can either gather all the slats at the top of the window to reveal the view, When lowered and rotated, wooden blinds obscure the views from outside and block all sunlight.
Wooden blinds can also be arranged in various positions, depending on the amount of privacy and natural light you require. Wooden blinds come in a number of finishes, all type of wood used and sizes determined by the width of each slat which is usually available in two widths – (35 mm or 50 mm).
Why prefer Wooden blinds ?
Wooden Venetian blinds are the perfect choice to complement the design and feeling of your surroundings, while providing an impressive light controlling action. Versatile, practical and good looking, they make a bold fashion statement. Whether you want to gently filter daylight without spoiling the view or close them for total privacy or filtered light, Wooden Venetian blinds are a stylish and practical choice. Available in a range of series and colours, we have the perfect look for every room.
Window blinds also come in various designs and can be used to decorate homes. They are easy to clean and are well suited to the humidity in the kitchen, Balcony or bathroom. Our wooden blinds Bangalore range of classy Wooden blinds aren't just stunning, they're also highly durable, so they can easily handle the heat & humidity without fading or warping.
Pricing :
Wooden Venetian Blinds per SQFT Rs.225/- to Rs.275/-
GST 18%
Installation Chargers per blinds Rs.200/-
Wooden Blinds
The Wooden Venetian blinds, also called Ailanto blinds are blinds specially designed from seasoned wood. These can withstand weather changes and remain sturdy through all seasons. Our Ailanto series are particularly effective in decors that are more neutral and traditional, where the natural hue and grain of wooden blinds enhances the look effortlessly. Ailanto comes in natural styles and has eye catching colours that will bring warmth to your home Decor.
wooden Blinds measurement
These wooden venetian blinds, which are precisely manufactured by using optimum quality materials and latest technologies. These Window blinds in Bangalore are widely demanded by the clients for its longer service life and durability. These blinds gives excellent performance against privacy, insulation and controls light.
Give your room an classic look with our new range of solid wooden venetian blinds. Give it a facelift that makes it seem like a room from the realms of the alchemy, amid modern amenities. Wooden blinds are a modern alternative to curtains with an old world touch.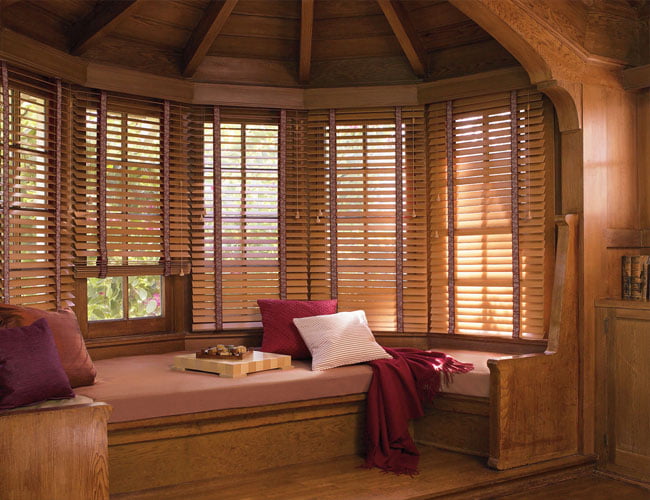 What finish should I choose?
Wooden binds are available in a range of finishes. This includes different shades of varnish and stains, matte paint, gloss paint, or a simple wax. You can choose the right finish for your space by considering its functionality, the type of mood you want to evoke, and the other furnishings in the room. If you want to create warm and cosy vibes, a darker shade of varnish will help to set the tone. But if you're looking to make your home feel lighter, brighter and more fresh, a white or cream painted finish is more suitable.
Features:
Available in 6 different weaves & 26 colours to choose from
High performance coating treatment – no Fungus or Termite problems.
Operating models : Roll up & Roman style.
All blinds come with colour co-ordinated edge tapes / cords / tassels.
Material : Wood
Light Transmission : 30% to 5%
Price Range : Rs.90 to Rs.140
Operation Type : Roman Style (Chain Mechanism), Roller Up (Lock Pulley Mechanism)