PVC Blinds in Bangalore :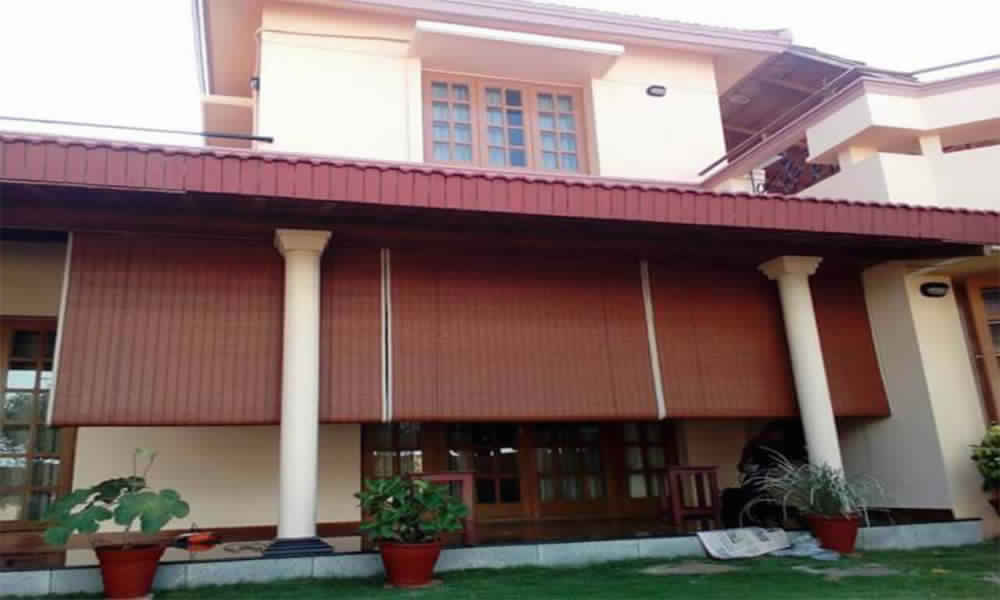 Outdoor PVC Privacy Blinds : If you have a large porch or a veranda/Balcony, you would need extra protection from wind and the harsh sun rays. You can use this type of PVC Blinds to have all the protection you need and give a decorative look to the outdoor area. The harsh sun rays contain the ultraviolet rays which may cause damage to the furniture. The PVC blinds prove useful to protect your outdoor furniture. They are available in many sizes and you can easily find one for even the most odd-sized opening in an outdoor space, this is the biggest advantage of these types of outdoor PVC blinds. Outdoor porch, balcony, patio, veranda privacy blinds will surely maximize the use of your porch, balcony, patio, veranda. Sonu Home furnishings provides you with Window PVC Blinds in Bangalore.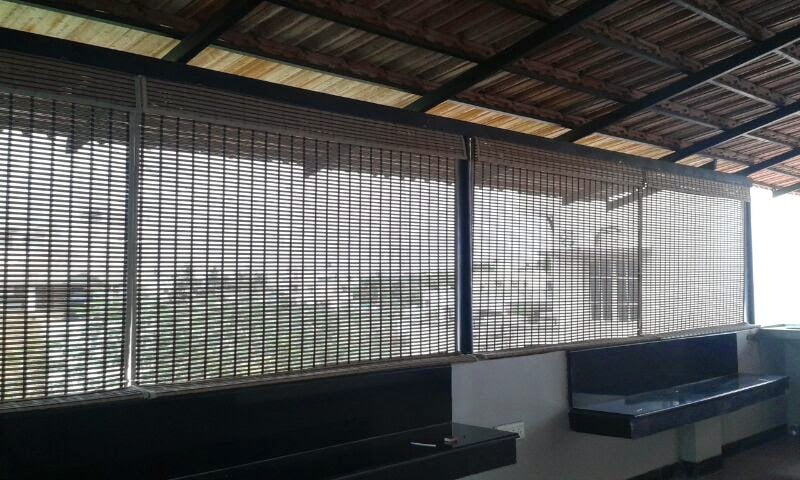 We provide PVC Blinds in Bangalore . PVC is a synthetic material used in a multitude of plastic products in various industries. We can use this PVC material in window blinds as well and call those blinds as PVC Blinds in Bangalore
Polyvinyl chloride or PVC blinds are fashionable window coverings in the world of window treatments. These blinds properly cover the windows and they work well in humid rooms like kitchens, bathrooms, or other humid areas. These PVC window treatments will help you to block the direct sunlight entering the room and also ensures complete privacy.
These PVC blinds are heat and moisture resistant and won't fade or crack. They are easy to clean with the use of a damp cloth.
There are a lot of material options for window treatments, including PVC blinds, vinyl blinds, wooden blinds, and more. Still, PVC blinds remain as one of the most popular choices for window treatments. Before you purchase, know the pros and cons of these PVC blinds.
Pros:
PVC blinds have the benefit of giving you a beautifully textured look. They are great when you are on a budget.
As PVC is a synthetic material, it is incredibly durable and can withstand strong winds and rains, and high levels of UV light from the sun without warping, cracking or fading. You can use them in any moist environment without fear of rust.
PVC also has insulation properties which help you keep your home warm in the winter and cool in the summer, helping you to save on heating and cooling costs.
Cons:
Sometimes PVC window treatments will give you a cluttered look, or you may want to opt for something that looks more natural. Some customers may have reservations about purchasing a synthetically made product, but we feel the pros far outweigh the cons.
PVC Blinds in Bangalore
Outdoor PVC Privacy Blinds :
PVC Blinds price starts from Sqft Rs.85/- to Rs.115/-
Installation chargers per Blinds is Rs.200/-
GST 12%
if your interested in buying PVC blinds for your home to make if beautiful as ever. then Contact us on Mob : 9880747100.
procedure :
our employee will visit your place and show the samples of the product .
After the design is finalized, our employee takes the measurements.
Give an quotation to your requirements.
After order is confirmed, 50% payment should be done in advance.
Within the 3-4 Days the installations will be completed.
THANK YOU,