Balcony Blinds in Bangalore
Wooden blinds are generally known as Venetian blinds. A number of horizontal wooden slats are joined together by corded pulleys which can either gather all the slats at the top of the window to reveal the view or simply angle the slats while allowing some light to travel through the blinds yet retaining some level of privacy. Wooden blinds come in a number of finishes (determined by the type of wood used, which ranges from painted to most types of solid oak varieties) and sizes (determined by the width of each slat which is usually available in two widths – 35 mm or 50 mm). we provide Balcony Blinds in Bangalore.
Monsoon blinds and balcony blinds combine tough protection with complementary style for demanding exteriors. Strong and long-lasting , our Monsoon balcony blind provide complete protection against all kinds of weather. Matts Corner Monsoon blinds are made from special scratch-resistant PVC and acrylic fabrics. The former ensures a lasting 'new-ness' of your exterior blinds and the latter allow light to pass freely making it a perfect shield. Our waterproof roller blinds are perfect for home and business use. We provide a wide enough variety of waterproof balcony blinds that match your unique design, style, and layout.
The monsoon blinds and outdoor balcony blinds are not only safeguard against water but also heat and dust giving protection all-year around.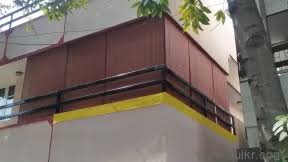 The outdoor balcony blinds and shades are sealed panel-wise hence damage can be easily repaired by merely replacing a panel rather than replacing the whole blind.
Stainless steel guides and cables provide long lasting support and life to your balcony blinds. Perfectly suited as exterior shades / outdoor blinds for sea-facing resorts, open restaurants, food courts, roof-top cafeterias and gardens.
Heat Protection
Phifer's Balcozy balcony screens are designed to cut off 80 percent of the heat and blocks harmful UV rays that come into your house. Our heavy-duty sun control balcony screen can reflect, and even dissipate heat and light before it enters your homes.
Balcony Blinds price :
PVC Blinds price starts from Sqft Rs.85/- to Rs.115/-
Installation chargers per Blinds is Rs.200/-
GST 12%
if your interested in buying PVC blinds for your home to make if beautiful as ever. then Contact us on Mob : 9880747100.
procedure :
our employee will visit your place and show the samples of the product .
After the design is finalized, our employee takes the measurements.
Give an quotation to your requirements.
After order is confirmed, 50% payment should be done in advance.
Within the 3-4 Days the installations will be completed.
THANK YOU,